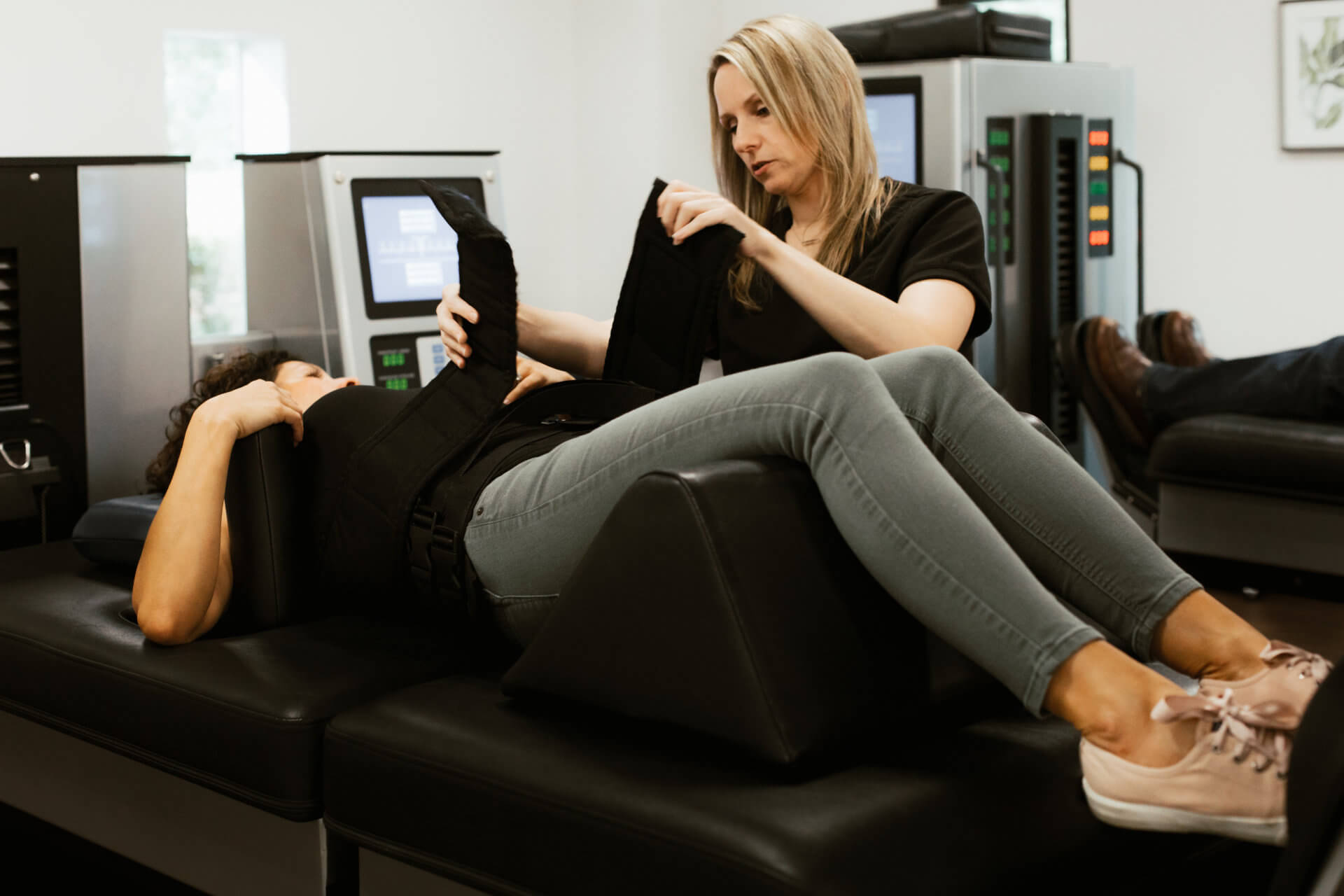 Non Surgical Spinal Decompression
The American Academy of Pain Management revealed in their Annual Conference in Tampa, FL, in September 2007 that after undergoing 2-weeks of treatment on the DRX9000 there had been a 50% reduction in pain scores and when the 6-week period completed it offered a success rate of 88.9%.
A specialized team of engineers was responsible for designing Spinal Decompression and Cervical Decompression to meet the needs of patients today, offer physicians with the right clinical outcome, and help patients achieve a higher quality of life.
The Tallahassee Spinal Care uses state-of-the-art technology for the non-surgical treatment of chronic neck pain sciatica and serious chronic lower back pain. We are the biggest providers of NSSD to Florida and the surrounding areas and use the most advanced NSSD equipment, the DRX 9000C.
We are committed to providing an exceptional standard of care to all patients, which is why we have added 2 FDA cleared DRX 9000C Lumbar Spinal Decompression and Cervical Spinal Decompression units for treating neck and back pain caused by:
We provide a Safe and Effective, New Choice for Neuropathy Sufferers.
Our clinic offers a NEW, Non-Invasive and Non-Surgical therapy protocol that combines the best of cutting edge medical treatments to help resolve your neuropathy suffering. We want to make sure that you have the confidence that you need, so we've designed an extensive diagnostic evaluation process to help us find out if you're a candidate for our program.
This extensive evaluation will give you ALL the information that you need to know before starting treatment so you can be assured if you will have success with your neuropathy pain program.
Spinal Decompression – Effective Lower Back Pain Treatment
At Tallahassee Spinal Care, we are committed to improving the lives of all patients that walk through our doors. That is the reason why we combine state-of-the-art technology with traditional healthcare, which allows us to deliver an outstanding level of service.
Previously, a patient with a disc problem could find some relief with specific spinal care. However, they suffered recurring pain from the disc as we couldn't completely address it with spinal correction. Most patients were advised to avoid physical activities to ensure spinal correction was successful, but they had to undergo spinal surgery if they didn't progress. Conservative healthcare has helped in various cases, but in most cases, surgery has often been the only solution, until now.
Now, you don't need to live with annoying back pain as spinal decompression helps to effectively treat sciatica and lower back pain caused by deteriorated or herniated discs. The best thing about spinal decompression is that it not only reduces back pain significantly but also allows patients to enjoy their active lifestyles without any worries.
How Effective is Spinal Decompression?
Spinal decompression has proven to be extremely effective, when it comes to relieving pain associated with failed back surgery, relapse, sciatic, degenerative disc disease, herniated and bulging discs. Spinal Decompression has already shown an impressive success rate in clinical studies for treating lumbar disc related problems ever since its release.
The reason behind its high effectiveness is because spinal decompression stretches and relaxes the spine slowly, removes downward gravitational forces, and creates a vacuum that lets nutrients and oxygen to flow back into the disc and start the healing process. All patients need to do is lie down on the cutting-edge Integrity Spinal Care System (ISCS) for a 20-minute session, where you can meditate, relax, read, or even fall asleep if you choose to.
Spinal Decompression is an FDA-cleared procedure that is both comfortable and gentle, without any side effects and risks. We've performed the procedure nearly 40,000 times in our office and have acquired amazing success in treating disc damage of all types.
We focus on Non-Surgical Spinal Decompression and NUCCA Protocols exclusively!
Want an expert on your health team? Call our office today at (850) 222-1171.
Enter Your Information Below to Get Your Free
Back, Neck & Sciatica Pain Report
That Everyone Is Talking About!